Retention for Total Backup
365 Total Backup now supports retention policies for all of your backed-up data, meaning easy compliance with regulations such as the GDPR and security frameworks such as ISO27001. You can still make use of unlimited retention by turning retention policies off, however, we now optionally support both retention and purge, as explained hereunder.
Note: Retention is not available for backups located in Europe (Netherlands).
Retention Functionality
The retention functionality allows you to choose how long to keep backup versions. This means that if you were to choose a retention period of 1 year, once a backup version's age reaches one year, it is automatically deleted.
Note: as a fail-safe, we will always keep the latest available backup version for Mailboxes/OneDrives/SharePoints/Teams Chats which are Disabled.
Purge Functionality
You can optionally turn on the purge functionality which kicks in once a user or group is detected to be deleted from your M365 organisation. This means that if you were to choose a purge period of 6 months, 6 months after we detect a deleted user/group, all backup versions for that user/group are purged.
Note: while a user/group is approaching its purge date, the retention functionality operates normally, and backup versions are still deleted on a rolling basis.
Considerations for Retention
The Retention functionality is currently available for Mailbox, OneDrive, and Sharepoint. Teams chats are only covered by the Purge functionality due to technical storage limitations.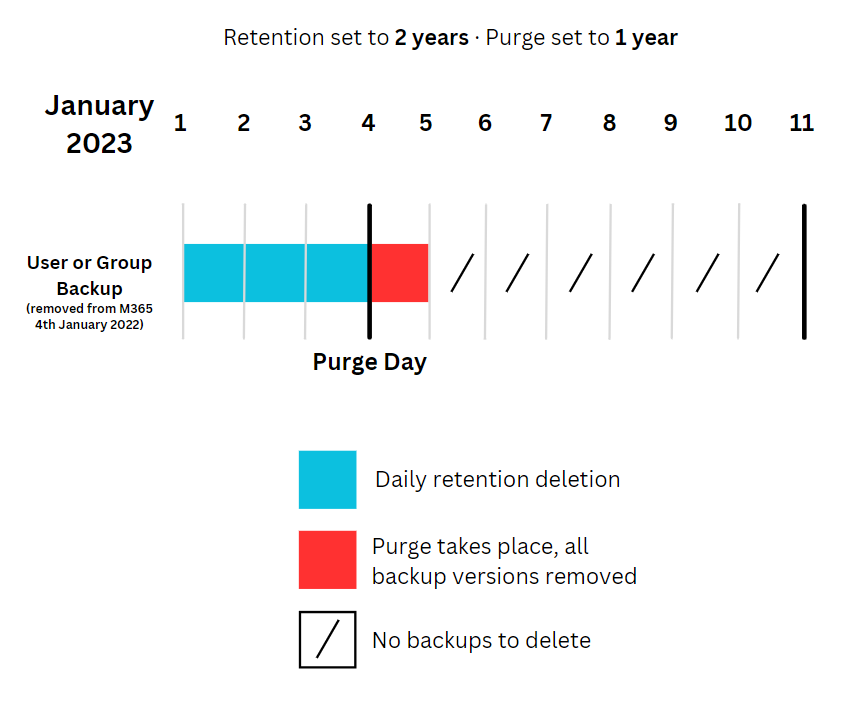 In the above diagram, assume a set retention period of 2 years and a purge period of 1 year. Backups have been taken for more than 2 years.
Backup versions for a particular user are deleted on a daily rolling basis as they turn 2 years old, in accordance with the retention policy.
1 year prior to the 4th of January 2023, the user/group is removed from its M365 tenant. As the purge period is set to 1 year, the purge day is reached and all backup versions are purged.