PROBLEM
Backup, restore, or replication operations fail with an error:
"Could not load file or assembly 'Altaro.Base.VirtualDisks.dll' or one of its dependencies. The specified module could not be found."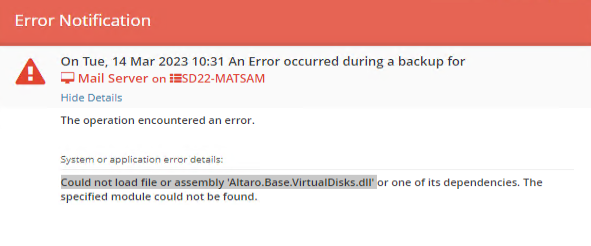 CAUSE
The above error occurs when the dependency "Microsoft Visual C++ 2015-2022 Redistributable" has not been properly installed on the machine running VM Backup.

SOLUTION
The dependency is installed as part of our Hornetsecurity VM Backup installer, however if for some reason this has been removed, you will need to run a repair or re-installation of the Hornetsecurity VM Backup application.
This can be done by downloading and re-running the VM Backup installer.