VMware Backups fail with the error message "Failed to read from the disk. Error Code: 14009 - The server refused connection."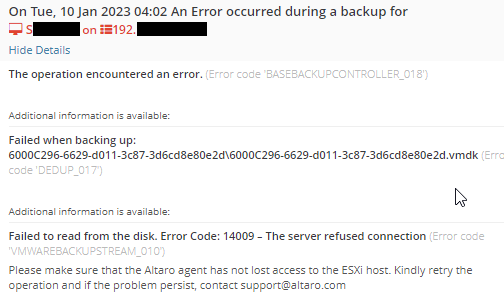 This error is typically caused by connectivity problems between the vCenter and ESXi hosts. The ESXi hosts have two NFC (Network File Copy) servers: one in hostd and the other in vpxa. The VDDK utilizes these servers for connecting to the vCenter or ESXi hosts respectively. When connectivity issues arise between the VPXd (vCenter) and VPXa (ESXi), the backup will fail with the above error.


Another possible cause of this issue is an Intrusion Prevention System (IPS) or Intrusion Detection System (IDS) present in the network between the NBD (Network Block Device) connections. It is essential to ensure that the Backup Host, ESXi hosts, and vCenter are all located on the same LAN to avoid this type of problem.

The below are a few known solutions to this issue:
Configure the Backup Host and ESXi Hosts to bypass the IDPS communications if there is an IPS or IDS present in the network and make sure that they are located on the same LAN.


Utilize vMotion to move the virtual machine to a different host. If the problem is resolved, this could indicate a network issue on the initial ESXi host.


Use Storage vMotion to move the virtual machine's storage location. This can help to identify if there is a network issue between the ESXi host and the datastore where the VM files were stored initially.


If the problem persists, consider restarting both the ESXi host and the vCenter.

The above is not a comprehensive list of solutions, but a list of solutions that have worked in the past.

If none of the above steps resolve the issue, we would recommend contacting VMware support for further assistance.