PROBLEM
After successfully deploying the Altaro VM Tools to truncate Exchange transaction logs, you receive the below warning during a backup:

Subsequently the Exchange Transaction Logs are not truncated during backup, and the Altaro VM Tools revert to 'Required' status after the backup job.
CAUSE
The logon process is unable to create a new User Profile or Temp Profile since the "Users" group does not have permissions to the SQM file.
SOLUTION
Further investigation will show that the Windows Application Event log inside the guest VM shows the following errors:
Source: VMware Tools | Event ID: 1000

Source: User Profile General | Event ID: 1509

Source: User Profile General | Event ID: 1511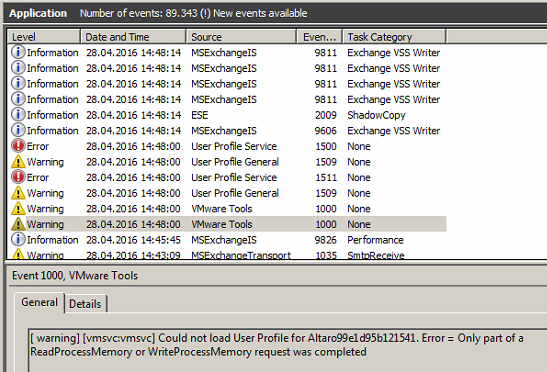 Event ID 1509 shows the details of the problematic SQM file. An example can be seen below:

The file name will differ in each case, so look for the file name and path in your particular VM and browse to that path in Windows Explorer, then bring up the NTFS permissions of this file as below: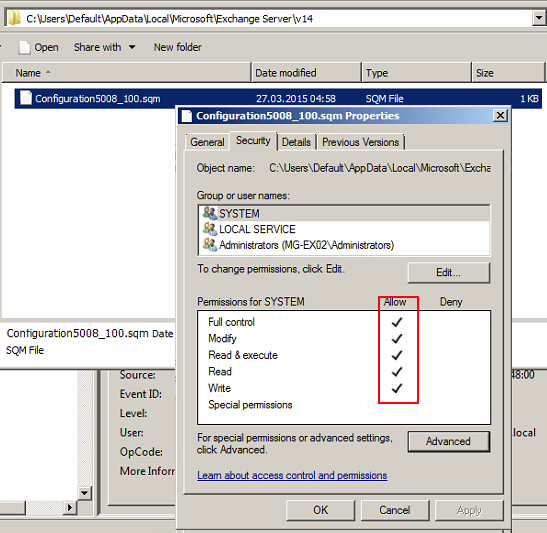 Click on Advanced > Change Permissions then tick the [Include inheritable permissions from this object's parent] checkbox and click [OK]
Once done, re-deploy the Altaro VM tools from the [Setup] > [Backup Settings] > [VSS Settings] menu in Altaro VM Backup and re-try your backups, they should show as successful and Exchange Transaction logs will get truncated.