A compliance filter rule can result in a malicious email being delivered. In this case, this is not misconduct and is more likely due to a poorly configured rule that you have created yourself.
To identify whether a rule is the cause, proceed as follows.
In the Control Panel, you will always find a reason for the categorization of the e-mail.
You have the following two options for displaying the reason.
You can use the small cogwheel on the right-hand side of Email Live Tracking to display additional columns. There you can also select the "Reason" column and always have an overview.


You can also find the reason in the details of an email. To do this, select the email, click on "Info" and you will find an overview of the selected email in the details. You can find further information here: Extended Email Information
Now search for the email in question and look in the "Reason" column for the reason of categorization.
If the email was marked as "Valid" due to a compliance filter, the "Reason" column contains the following:
clean by compliance rule id=xxxxxxx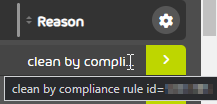 You will also find this information in the details of the e-mail:

You will then find the ID under "Security settings" -> "Compliance filter" -> "Rules for incoming emails" in the table in the last column. In this rule, you can then add further conditions (if desired) to increase security.