PROBLEM
Unable to complete the upgrade to the latest version because of error: "This Application requires Windows Server 2008 R2".
Windows Server 2008 R2 or later is already installed.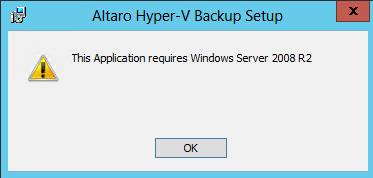 CAUSE
This is a known issue after doing an in-place upgrade from Windows Server 2008 R2 to Windows Server 2012
SOLUTION
Run the "Microsoft Fix It" tool provided here: http://support.microsoft.com/mats/Program_Install_and_Uninstall
Warning: Since this is not a VM Backup utility, please use with caution.